FEATURES
Faucets with touch free activation, optionally temperature selector handle. For cold or premixed water. Power supply by battery or transformer possible. Chrome-plated solid brass bodies and other coatings available on request. Including filter and, for battery-operated products, with low battery indicator. With non-contact faucets, sensor settings can be adjusted using an optional remote control.
OPERATION
The faucets are activated automatically as soon as the user puts his hand in the sensor area and stops when the user removes his hand again or, in the case of products that cannot be activated contact-free, using the push button.
USE
Metrix combines uncompromising quality standards with elegant design. Easy installation and durable even in the harshest installation environments. Saves water, maintains cleanliness. Ideal for commercial and public areas.
STROMVERSORGUNG
9V AC Stecker-Netzteil 100 – 240 V 50 – 60 HZ
9V Batterie
6 x 1.5V AA Batterien
EMPF. FLIEßDRUCK
0.5-8.0 bar (7-116 PSI), mit einem Betriebsdruck von über 8 bar einen Druckminderer einsetzen
Bei Metrix Thermostat: Empfohlener Fließdruck: 0.5-5.0 bar (7-72.5 PSI), mit einem max. Betriebsdruck-
Unterschied von 2 bar zwischen dem Kalt- und Warmwasser. Bei einem Betriebsdruck von
über 5 bar einen Druckminderer einsetzen
WASSERVERSORGUNG
Kaltes oder vorgemischtes Wasser
WASSERSPAROPTIONEN
6 l/min / 1.58 gpm – SSR PCA Strahl
6 l/min/1.58 GPM;
4 l/min/1 GPM;
3 l/min/0.8 GPM;
1.89 l/min/0.5 GPM;
1.3 l/min/0.35 GPM
PCA spray
WASSERTEMPARATUR
Max. 70°C (158°F)
SICHERHEITSABSCHALTUNG
90 Sekunden, kann mit der optionalen Fernbedienung
verkürzt werden
SENSORAKTIVIERUNG
Voreingestellter Sensorbereich 90/120mm, justierbar mit der optionalen Fernbedienung
MONTAGEMÖGLICHKEITEN
Verdeckt, Wandmontage, Waschtischmontage
Metrix basin mixer
The elegant all-rounder available as mixer, valve, thermostat or as a self-closing fitting, the Metrix always makes a fine figure. Contactless, elegant and ideal for highly frequented washrooms.
By placing your hands in front of the sensor, which is very discreetly embedded in the body, the water flow is activated. The touch free use offers the highest level of protection against germs and prevents cross-contamination. When you remove your hands from the sensor area, the flow of water stops automatically, saving you water and energy.
Whether as a mixer tap with a practical mixer lever on the side for convenient water temperature setting or as a valve for cold or premixed water. The Metrix won't let you down, highly frequented washrooms all over the world, rely on its robust and reliable technology.
The Metrix thermostat offers you the convenience and security of a thermostat at the washing area. With the simple temperature setting on the faucet, you can always be sure that you are getting the desired water temperature. The built-in scalding protection automatically closes the fitting when the cold water pressure drops.
The Metrix self-closing fitting available as mixer with temperature control or as a valve is used wherever there are particularly high demands on the materials used.
The all-metal push button and the lockable temperature setting offer the desired protection against vandalism.
Perfect to combine with the touch free Metrix assortment, the Metrix soap dispenser is providing soap completely touch free, adding the Metrix touch free hand dryer, completes the holistic wash place solution from Benkiser.
Metrix soap dispenser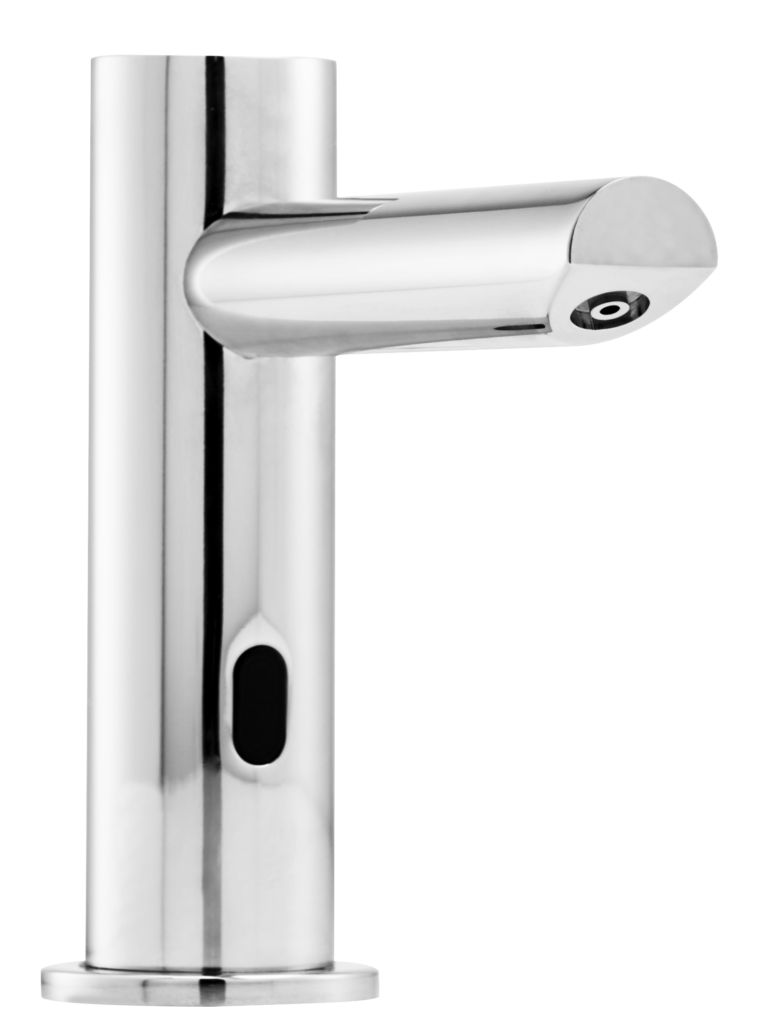 The last few months have shown that contactless fittings and soap dispensers have become an important element in hygiene concepts for public and commercial washrooms.
The stylishly designed and shapely Metrix soap dispenser is operated by placing the hand in front of the sensor. A precisely dosed amount of soap is dispensed without touching the soap dispenser. The practical refill container holds 1 liter of liquid soap and can be operated with almost all commercially available soaps. This saves high costs. Check out the soaps and disinfectants recommended by Benkiser can be viewed here.
Metrix hand dryer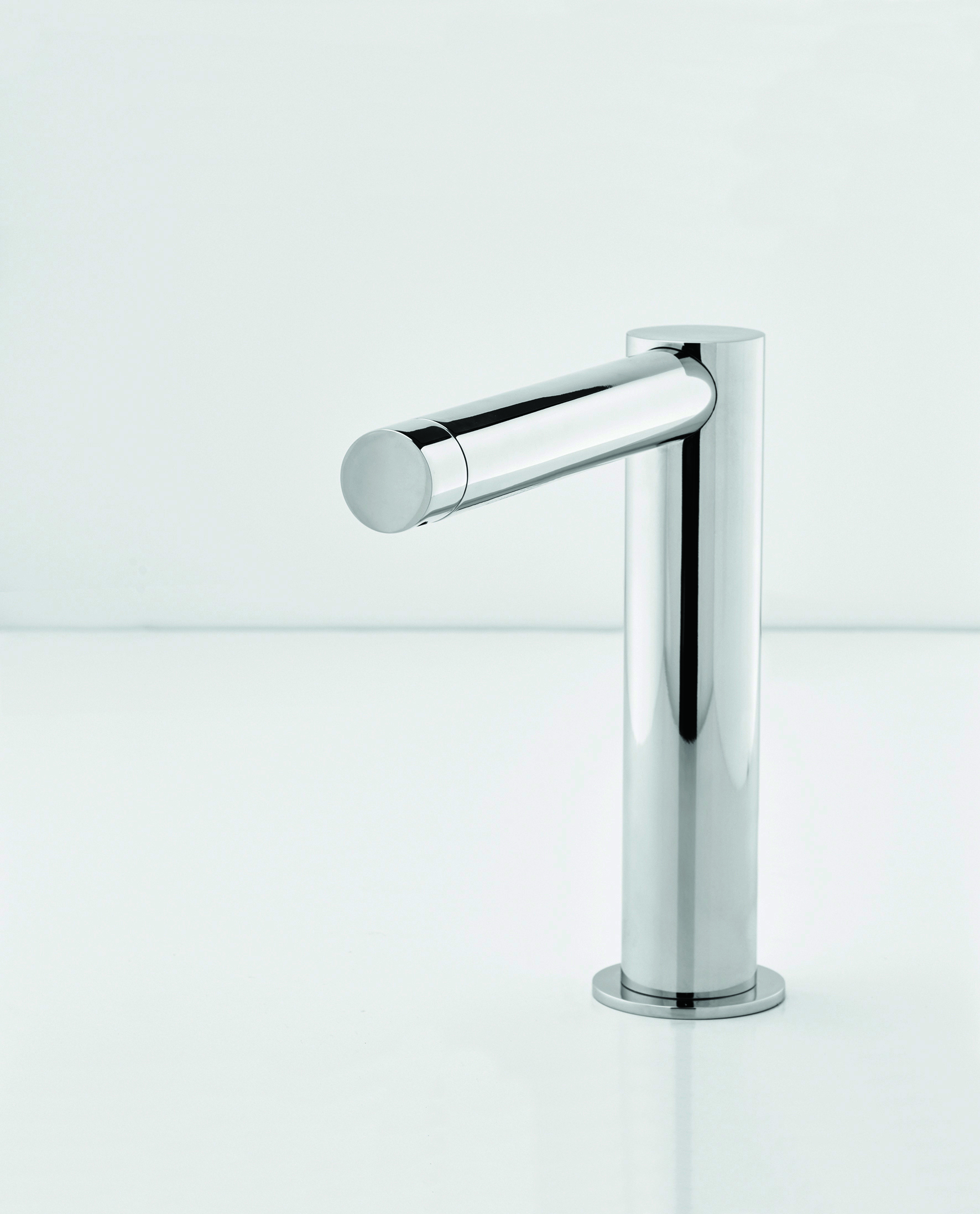 CHARACTERISTICS
The contactless, electronic hand dryer for washbasin installation. This is activated by an IR sensor. The air flow rate can be adjusted using an external rotary knob on the motor placed under the sink. The sensor settings can be adjusted using an optional remote control.
TECHNOLOGY
Activated by an IR sensor
Air flow rate can be adjusted using an external rotary knob on the motor
Full brass body, chrome-plated
easy installation
Metrix für Waschtische