The SENSOR wash station is the perfect "plug & play" solution for the touch-free washroom.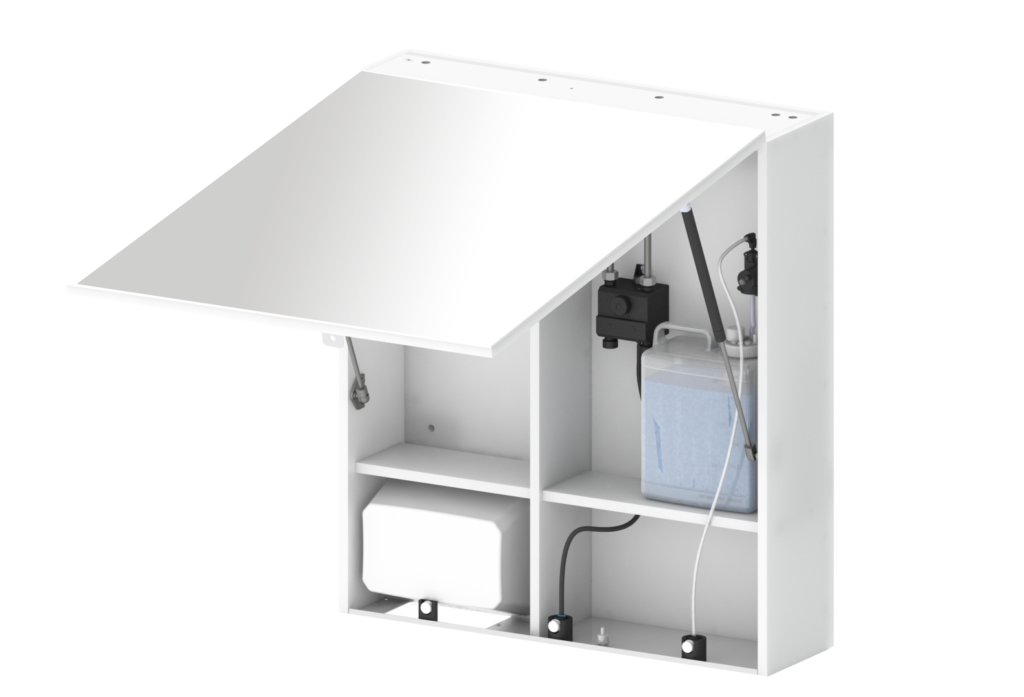 Elegantly hidden behind the mirror is a mixing unit for adjusting the water temperature, soap dispenser and high-speed hand dryer. The illuminated LED pictograms enable intuitive use, and can even be changed if necessary. All you need is a cold and warm water connection and a power connection to put the SENSOR washing station into operation. Actuation is done by hidden sensors in the spouts, right on the bottom of the cabinet. As usual, the known settings can be adjusted via optional Benkiser remote control.
The use is completely touch free. The mixing unit reliably delivers water at the preset temperature. The touch-free soap dispenser dispenses a precise amount of soap when you place your hand under the dispenser. After washing hands, the integrated high-speed hand dryer dries hands in less than 10 seconds. This makes the washing station ideal for heavily frequented washrooms. The lockable cabinet ensures that only authorized persons have access to the components. The large 6-liter soap tank can be easily filled with many commercially available soaps. (The Benkiser soap and disinfectant recommendation can be found here)
Of course, the Wash-station can be individually adapted to customer needs, whether paper dispenser instead of hand dryer, without soap dispenser or also different dimensions of the cabinet, please contact us.
Do you like the Sensor washing station?
Then feel free to contact us.

Technical
information
Data sheets and
instructions
Matching
products