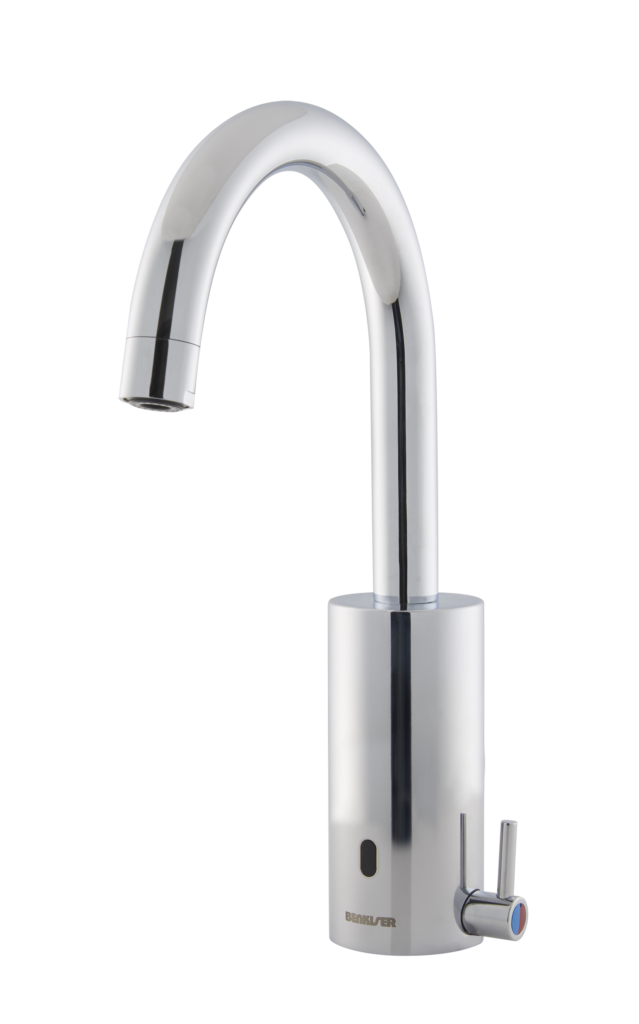 DESCRIPTION
The Schwanenhals (German for: gooseneck) looks graceful due to its imposing high arch and is also very practical at the same time. The high spout gives you the extra space you need.
The infrared sensor, which is discreetly placed in the base, triggers when you place your hands in front of the mixer. A pleasant and soft jet of water envelops the hands. Due to the contactless operation, you avoid coming into contact with germs and reduce the risk of cross-contamination.
When you take your hands out of the sensor area, the water flow stops automatically.
This saves energy and, first and foremost, water.
The water temperature can be easily adjusted using the temperature control on the side.
CHARACTERISTICS
Touch free electronic basin mixer
Activated by an IR sensor
Temperature selector handle with hot water limitation
For cold and hot water
Significantly reduces water consumption
Protects against cross contamination
The sensor settings can be adjusted using an optional remote control
easy installation
Internal solenoid valve
Brass body, chrome-plated, other coatings available on request
POWER SUPPLY
9V plug-in power supply 100 – 240 V 50 – 60 HZ
6 x 1.5V AA batteries
FLOW PRESSURE
0.5-8.0 bar (7-116 PSI), use a pressure reducing valve at an operating pressure of over 8.0 bar
WATER SUPPLY
Cold and hot water
WATER SAVING OPTIONS
Standard 1.89 l/min
6 l/min/1.58 GPM;
4 l/min/1 GPM;
3 l/min/0.8 GPM;
1.89 l/min/ 0.5 GPM;
1.3 l/min/0.35 GPM
WATER TEMP
Max. 70°C (158°F)
SAFETY SHUTDOWN
90 seconds, can be shortened with the optional remote control
SENSOR ACTIVATION
170 mm, adjustable with the optional remote control
HYGIENE FLUSHING
24 hours after the last use for 30 seconds, adjustability 12-72 hours